Technical Analysis of
S

TOCKS &

C

OMMODITIES
The Traders' Magazine since 1982
1,226,237 subscribers from 174 different countries since 1982
Search
For the most searched topics, click on one of the links below:
Readers' Choice Awards—Historical Winners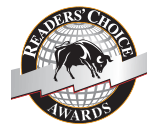 We have compiled a listing of our historical Readers' Choice Award winners—so you can see at a glance who consistently wins praise and who the perennial contenders are, shown by the years they have won their particular categories.
To see these results, and a summary of each category, simple click on the category you are interested in below. This will take you to the relevant category page.
Current Articles — Learn To Trade
Readers' Choice Awards Best Articles 2007–2021