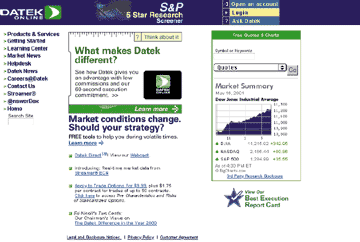 Datek Online Holdings Corp. has launched Streamer ECN, a provider of free, streaming, real-time stock price information from Electronic Communications Networks (ECNs). This service allows Datek Online to aggregate price information from several leading ECNs, including The Island ECN, RediBook, and Archipelago, which provide significant liquidity in popular Nasdaq stocks. Datek Online customers will continue to have access to the recently launched Streamer version 3.0 quote service. This service includes Level I quotes for Nyse, Nasdaq, and Amex stocks; detailed Level II Nasdaq quotes; automatic customized portfolio tracking; and an applet displaying most-recent trading activity in a given security. The service also provides real-time line graphs that illustrate stock price trends.

In other news, Datek reported that its average time for executing marketable online equity orders in February 2001 was 7.53 seconds. For Nasdaq orders that were marketable upon entry, Datek Online's average execution time in February was approximately 4 seconds. Execution speed is one of the key order routing metrics that Datek Online has begun publishing on its website in advance of disclosure requirements set by the Securities and Exchange Commission (SEC). In calculating execution speed, Datek Online starts the timer when an order enters its processing system. The timer is stopped when a market participant informs Datek that the trade has been executed.

The Sec will require brokers to report by October 2001 the percentage of orders routed to various market participants, including market makers, Electronic Communications Networks (ECNs), floor specialists, and internal trading desks. Brokers also will be required to disclose payments received for order flow.

Datek Online rebates its order flow payments to its customers, to date totaling $2.6 million. In addition, Datek Online has begun reporting monthly data relating to price improvement. Datek Online's monthly reports are available at www.datek.com/bestexecution.

Datek Online Brokerage Services LLC, PO Box 2300, Jersey City, NJ 07303-2300, 800 823-2835, 732 635-7500, fax 201 558-4365, support@datek.com, www.datek.com.