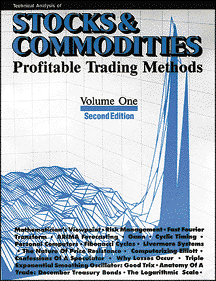 SOLD OUT
From the first exciting years of STOCKS & COMMODITIES, we've assembled the articles and reviews that first made S&C essential reading for the technical trader.
A successful trader's best route to success is to learn how to read the market. Add this book to your library and you'll learn how to maximize good trades and minimize bad ones.
For everyone who's waited on the sidelines as a stock or commodity has rallied... for everyone who has wondered whether his own method of trading stacks up against other methods... and for everyone who's been certain that there are better trading tactics out there, but hasn't been certain where to find them, this is the first place to turn. The methods used herein are timeless and as effective today as they were in 1982 — and, for that matter, as they were at the turn of the century.
No trading library will be complete without this pivotal collection of important technical tools and tales from the trading wars. You'll learn:
When to enter a market
When to exit a market
What to do if you make a mistake
Which technique is best for you.
Explaining a wide assortment of proven methodologies, STOCKS & COMMODITIES: Profitable Trading Methods, Volume 1 is a must-have item for any trader's bookshelf.