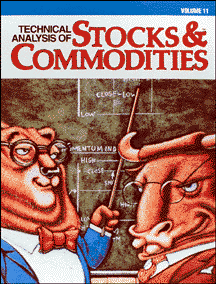 There is no one secret to success. Rather, there are many; most of them are contained in these pages.
In these pages, you'll find the latest way to look at long-established techniques such as candlestick analysis, multiple regression analysis, and moving averages, not to mention gaining a different understanding of the DJIA and the S&P.
But you'll also be exposed to other, more modern methodologies that are equally effective. Trading systems based on neural nets; for instance — systems that learn from their errors.
When you are open to the best of the new and the best of the classic, you are open to selecting the best and most profitable way to trade. Profit from:
The dual CCI
The Coppock guide
The volume oscillator
The parabolic trading system
Markov chains
With so much to study, you can't help but learn something that will make you a more effective trader. Add STOCKS & COMMODITIES: Volume 11 to your library today!