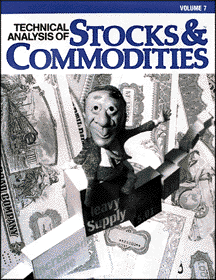 Has one of your trades failed because you weren't aware of all the tools and techniques available to you? Are your successes smaller than those of other traders you know?
This volume may be the cure for what fails you. Technical analysis mastermind Arthur Merrill demonstrates the success of a number of indicators that may lead you to winning trades. Learn the importance of trading volume not only from Merrill, but also from Thom Hartle's excellent article on Equivolume charting. Toby Crabel's articles demonstrate the importance of patterns and how to recognize them. And Clifford Sherry reminds us all that making money in any market is always about risk — and then quantifies it for traders.
Knowing a wide set of systems and approaches to trading can only minimize your chances of being blindsided by a trend unseen or unaccounted for. Imagine the increased chance of success you'll have every day when you, too, understand:
Point and figure charts
Fibonacci ratios
Parabolic stop/reversal
The McClellan oscillator
The channel breakout system
If you want a better chance at success in the market than the average Jane or Joe with a laptop and a discount broker — STOCKS & COMMODITIES: Volume 7 is one book you'll refer to, again and again.