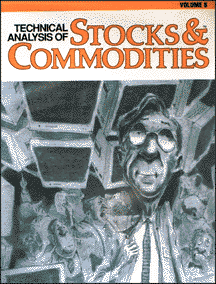 Knowing the basics and listening to wiser heads — these things have always rewarded those who make a practice of them.
Prepare to be rewarded.
For the basics, this volume presents a series of instructional articles by Thom Hartle and Melanie Bowman. From Dow theory to reversal patterns to consolidation patterns to gaps, you'll learn (or re-learn) enough about technical analysis to confidently attack the market of your choice.
Read another of the field's authorities, Richard Arms, describe ease of movement, and then see how it applies to your trades. Review chaos theory, and see how smart trading may sometimes not be enough.
There's much more in this exceptional collection, including:
Early trend identification
Candlestick charting
The second hour index
Negative volume divergence
Hedging with spreads
For well-rounded, well-tested technical trading tools that will help you avoid losses in any kind of market, STOCKS & COMMODITIES: Volume 8 is an essential addition to your library.