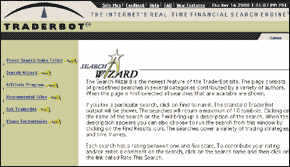 http://www.traderbot.com
TraderBot has introduced Search Wizard, a new tool offering predefined searches developed by a variety of Wall Street experts. The Search Wizard provides more than 20 individual scans covering a broad range of trading strategies -- long-term, swing-trade, and short-term -- based on select fundamental data and technical indicators. Each predefined scan displays a comprehensive profile, including the strategy name, author, date of implementation, time horizon, strategic objective, and criteria specification. In addition, each strategy is assigned a star rating of one to five based on user feedback.

Authors contributing strategies to the Search Wizard include Harvey Baraban of Baraban Securities; Greg Morris of MurphyMorris Inc.; and directors from TradingMarkets.com. Additional contributing experts are expected to be announced shortly.

TraderBot functionality includes real-time financial scans on its SUReTick database, news searches, company profiles, portfolio alerts, and its Search Wizard library of custom scans.

Monthly subscriptions and free trials are available.